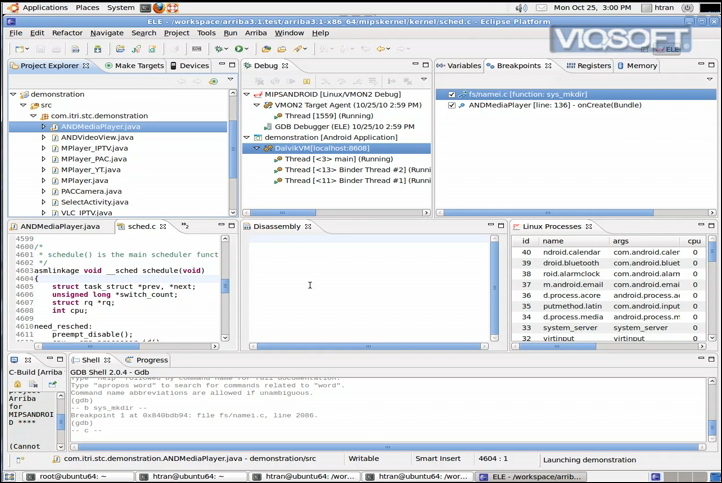 Symplifying Android DevOps
MIPS Technologies, Inc. (Nasdaq: MIPS), a leading provider of industry-standard processor architectures and cores for home entertainment, communications, networking and portable multimedia markets, today announced availability of advanced debug and development tools that simplify AndroidTMapplication development. These tools are free-of-charge through the Android on MIPS community. MIPS Technologies is making available the QEMU open source emulator, and through its partnership with Viosoft® Corporation, offering industry-leading Arriba development tools for QEMU to make development even easier. MIPS Technologies has also enhanced the Android Native Development Kit (NDK) for the MIPS® architecture to include a compiler and a rich graphical user interface (GUI) that streamlines the entire build process to a simple point-and-click for fast native development.
"Android development is gaining increasing popularity among MIPS developers. We already have more than 3,000 members of the Android on MIPS community, with upwards of 40 new registrants each day," said Art Swift, vice president of marketing, MIPS Technologies. "MIPS Technologies is leading the industry not only in bringing Android to a broad range of consumer devices, but also in making development fast and easy. The tools that MIPS Technologies offers for Android development go far beyond solutions for other architectures, driving application development and growing the ecosystem around Android on MIPS."
QEMU offers a virtualized emulation platform to speed development of Android applications on the MIPS architecture. The fully-integrated set of Arriba development tools for QEMU support native and Java development, and provide unprecedented visibility into code development. Tools include the time-tested Arriba Linux debug and profiling technologies and a comprehensive set of plug-in modules that offer valuable insight into the Android software stack, including the Android System Level Event Analyzer.
With the Android NDK for the MIPS architecture, developers can use native libraries with Android applications-allowing these applications to access existing software libraries supported for devices such as set-top boxes, digital TVs and consumer electronics. In addition, developers of performance-intensive applications such as gaming can create optimized code to deliver an enhanced user experience. One of the key improvements to the Android NDK – unavailable on other CPU architectures – is a rich and simplified GUI environment for the building of native Android applications that would otherwise be a manually-driven and cumbersome process.
Pricing and Availability
QEMU and the Android NDK for the MIPS architecture are available now, and the Arriba tools for QEMU will be available this month. All components are free-of-charge. To access the tools, visitwww.mips.com/androidfor a direct link to the Android on MIPS community.
About Android on MIPS
Leveraging its leadership position in the digital home, MIPS Technologies is spearheading efforts to make Android a reality for a wide range of consumer electronic devices. With Android and the dynamic open source development community around it, developers can easily and quickly create new applications, and OEMs can leverage a fast-growing set of applications for their devices. The extensive MIPS ecosystem around Android enables OEMs to quickly optimize Android for their specific platforms and debug their solutions across the entire software stack. For more information about the Android platform and MIPS Technologies, or to access the full source code for MIPS Technologies' port of Android to the MIPS32® architecture, including a reference binary and documentation, please visitwww.mips.com/androidor emailandroid@mips.com.
About MIPS Technologies, Inc.
MIPS Technologies, Inc. (Nasdaq: MIPS) is a leading provider of industry-standard processor architectures and cores that power some of the world's most popular products for the home entertainment, communications, networking and portable multimedia markets. These include broadband devices from Linksys, DTVs and digital consumer devices from Sony, DVD recordable devices from Pioneer, digital set-top boxes from Motorola, network routers from Cisco, 32-bit microcontrollers from Microchip Technology and laser printers from Hewlett-Packard. Founded in 1998, MIPS Technologies is headquartered in Sunnyvale, California, with offices worldwide. For more information, contact (408) 530-5000 or visitwww.mips.com.
###
MIPS, MIPS32 and MIPS-Based are trademarks or registered trademarks in the United States and other countries of MIPS Technologies, Inc. All other trademarks referred to herein are the property of their respective owners. Android is a trademark of Google Inc. Use of this trademark is subject toGoogle Permissions.
Media Contact:
Jen Bernier
MIPS Technologies
+1 408 530-5178