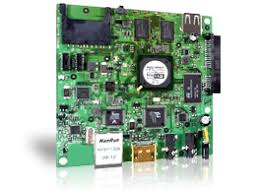 Digital Multimedia Reference Designs
Viosoft Corporation announced availability of the Android Adoption Kit for MIPS-Based digital multimedia designs, continuing the push of Android on MIPS® solutions into the digital home and beyond. The Android Adoption Kit includes Sigma Designs' Vantage 8654 Development Platform, the Viosoft Arriba IDE/Debugger, access to the latest Android on MIPS and Linux source code from the MIPSAndroid community portal, and online support from Viosoft. The Android Adoption Kit is designed for non-commercial use and includes everything necessary for individuals and organizations to rapidly explore and experiment with Android software development and deployment on MIPS-Based platforms. Utilizing Sigma Designs' high-performance SMP8654 Secure Media Processor, the Vantage 8654 Development Platform supports an HDMI output, two USB 2.0 host ports, two Ethernet ports and two smartcard interfaces. An optional tuner add-on board supports an ATSC, DVB-T, DVB-C, DVB-S or DVB-S2 tuner. A significant value-add to the Android Adoption Kit is the award winning Viosoft Arriba IDE/Debugger, which provides a comprehensive integration and debug environment for the Vantage 8654. Feature highlights include:
Source-aware, multi-language debugger (supports MIPS assembly, C/C++, and Java/Dalvik)
Support for kernel and user-mode debugging through a single channel of connectivity
Support for multi-process and multi-thread debugging
Support for Linux shared library and loadable module debugging
The visibility and non-intrusiveness of the Arriba environment gives users an insightful understanding into the inner working of Android Java applications, middleware frameworks and associated libraries, the Dalvik virtual machine, and even the Linux kernel.
"The availability of the Android Adoption Kit is testament to the progressive stance that MIPS Technologies and its ecosystem partners like Viosoft have been taking with Android, especially in the digital multimedia space," said Art Swift, vice president of marketing for MIPS Technologies. "The visibility and time-to-market advantage of the Viosoft development tools, coupled with the performance and robustness of the Sigma platform, are indicative of the roadmap that MIPS has set forth for Android. We're pleased that Viosoft has chosen to differentiate its solution on the MIPS architecture, and we are looking forward to future efforts from Viosoft and other partners."
"While interest behind Android has been surging, many companies, especially those without prior background in embedded Linux, have had difficulties in determining whether Android is the right solution for their future needs and applications," said Art Lee, vice president of business development for Viosoft Corporation. "The idea behind the Viosoft Android Adoption Kit is to provide such organizations with the ability to test the Android waters without burning holes in their pockets. Viosoft is confident that users and customers will gravitate toward Viosoft and MIPS Technologies as their solution providers should they choose Android."
Pricing and Availability
Priced at $995 (U.S.), the Android Adoption Kit is available now from Viosoft at https://www.viosoft.com. For the first 100 customers, Viosoft will discount the full purchase price toward the purchase of the Viosoft Arriba Embedded Linux Edition, or the Android Porting Kit for professional users.
About Android on MIPS
Leveraging its leadership position in the digital home, MIPS Technologies is spearheading efforts to make Android a reality for a wide range of consumer electronic devices. With Android and the dynamic open source development community around it, developers can easily and quickly create new applications, and OEMs can leverage a fast-growing set of applications for their devices. The MIPS ecosystem around Android enables OEMs to quickly optimize Android for their specific platforms and debug their solutions across the entire software stack. For more information about the Android platform and MIPS, or to access the full source code for MIPS Technologies' port of Android to the MIPS32® architecture, including a reference binary and documentation, please visit www.mips.com/android or email android@mips.com.
About Viosoft
Founded in 1996, Viosoft Corporation is a privately-held corporation focused on delivering cutting-edge solutions for complex embedded systems software and system designs and development. Viosoft embedded development solutions enable customers to create, debug, and deploy large scale embedded software on leading RISC microprocessors using a variety of popular and widely available connectivity options. By providing a single integrated environment with the same consistent look-and-feel and usability across different host and target platforms, the Arriba Development Suite helps customers reduce time-to-market and achieve maximum competitive advantage. Viosoft is based in Campbell, California. For more information visit www.viosoft.com.
About MIPS Technologies, Inc.
MIPS Technologies, Inc. (Nasdaq: MIPS) is a leading provider of industry-standard processor architectures and cores that power some of the world's most popular products for the home entertainment, communications, networking and portable multimedia markets. These include broadband devices from Linksys, DTVs and digital consumer devices from Sony, DVD recordable devices from Pioneer, digital set-top boxes from Motorola, network routers from Cisco, 32-bit microcontrollers from Microchip Technology and laser printers from Hewlett-Packard. Founded in 1998, MIPS Technologies is headquartered in Sunnyvale, California, with offices worldwide. For more information, contact (408) 530-5000 or visit www.mips.com.