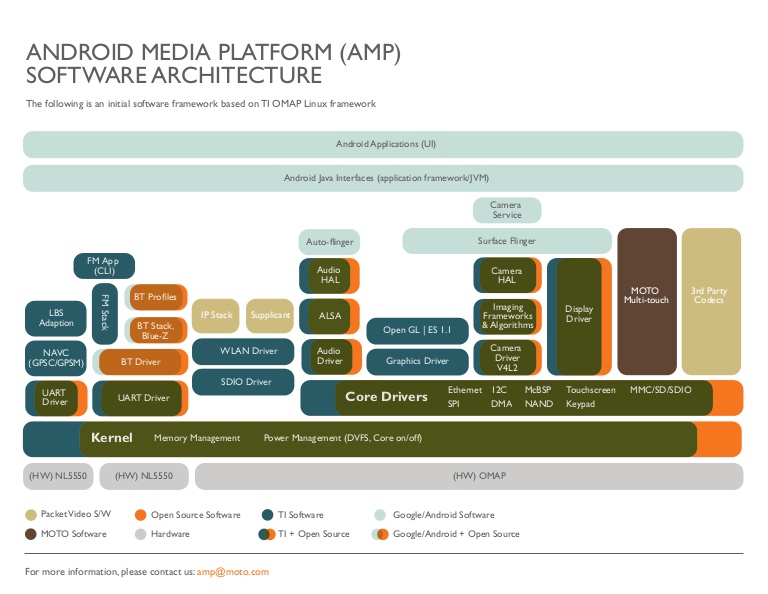 Customer Premise Media Framework
Viosoft Corporation announced immediate availability of the Media Framework for Android, enabling companies to develop and deploy Digital Television, Set Top Box, Tablet, Ultra book and Handset products. Built on Android, the Framework is a fully integrated and customizable reference platform that includes a full featured Media Center, Android applications compatibility, and Open Office Suite. Application development is enabled through Viosoft's award winning Arriba for Android Development Environment, providing the industry's only thread level, "run-mode" debugger with complete platform visibility and control of the Linux kernel, loadable modules, native C/C++ processes, and Java applications.
"Viosoft has pioneered the enablement of Android in products beyond those targeted by Google™", said Art Lee, Vice President of Business Development at Viosoft. "The Media Framework for Android empowers our clients to design and deploy vertically differentiated non-mobile Android products in manners that embrace and extend the capabilities of Google code base and tools. The availability of the Framework for the AMD Embedded G-Series platform is testament to the flexibility and coverage of our solution."
About The Media Framework
Media Framework for Android is a complete hardware and software reference design that seamlessly combines the finest elements of Linux and Android, allowing the OEM/ODM to rapidly create full featured media-enabled products. By blending the modern look and feel of Android with a full featured Media Center, products built on the Framework can leverage from thousands of existing Linux applications such as the Open Office Suite. Optionally, the Framework can be deployed with a collection of interactive products that can be customized for specific markets, including:
• Voting and betting on outcomes of live events
• Media-centric social interaction and networking
• Handset and tablets extensions (remote control, program view and selection)
The Media Framework and associated development Tools and Services are available from Viosoft, effective immediately.
Demonstration at CES
Viosoft will be hosting private demonstrations at their suite during CES. For more information and hand-on demonstration of the Framework and Arriba tools, please contact info@viosoft.com to schedule an appointment.
About Viosoft
Founded in 1997, Viosoft is a worldwide leader in development tools and market specific software IP for embedded computing and networking. The company offers a wide range of products and services designed to empower the creation of embedded Linux and Android applications for a wide range of CPU architectures and platforms.
#########
Viosoft and Arriba are either registered trademarks or trademarks of Viosoft Corp. in the United States and/or other countries.
The names of actual companies and products mentioned herein may be the trademarks of their respective owners.